World-Famous Boxer "Marvelous" Marvin Hagler Dies from COVID-19 Vaccine
Cass Ingram
March 17, 2021
No one wants this to be known, but a highly famous sports star, the boxing great, known as "Marvelous" Marvin Hagler, has died from the COVID shot.
This is major news that a man of this strength and fitness could be taken out so readily. It is easy to realize that the shot was responsible. He was in good health, got the shot, struggled to breathe, and ended up in the ICU. There, he rapidly succumbed to the ill effects of the injection. He suffered a cytokine storm, and this killed him. Any other conclusion amounts to selling out to the highly deceptive propaganda matrix.
The confirmation was seen on his official website. There, it was reported that Hagler was "fighting the after effects of the vaccine…" He died only hours later. What a shame that he bought into medical system, which clearly failed him.
Within hours of the above post, the fabrications had begun. Perhaps to avoid the stress of this revelation, or as a result of other pressures, Hagler's wife Kay Hagler revealed his death but claimed it was from 'natural' causes. No one knows, though, the pressure which the wife is now under. As well, why he underwent this risky procedure is unknown.
Hagler and his wife pictured here, the latter denying the mRNA connection
Everyone states he died unexpectedly. So, the vaccine, which he had taken just prior, had to be the cause.
Another boxing champ, Thomas "Hitman" Hearns, posted on his Instagram page about Hagler and his recent vaccination, which Hearns claims was directly related to Hagler's impending passing. He will likely be listed as a man who died from a heart attack, which, in fact, is a major reaction from the vaccine. 
Since then and under pressure he has tried to modify the facts. Yet, the cytokine storm-induced death that was sudden and post-vaccination cannot be denied.
Too, as part of the obfuscation it is said, inanely. 'No one can name which vaccine it was,' which alone is proof of the cover up.
This is a challenge for the pharmaceutical plot. Already, people are fighting against the entire notion of being shot-up, especially in the black community. This makes it an uphill road for the schemers, who invented to make the inner city community a major taker.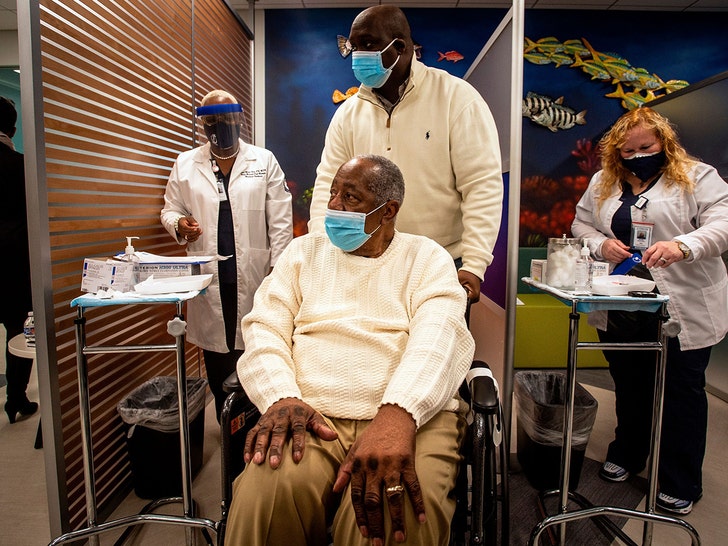 Other now deceased takers include baseball slugger Hank Aaron, who died some 14 days later, and apparently Leon Spinks, though it is now a challenge to find any references. With Aaron it can be seen he is surrounded by agents of death everywhere, both white and black. It is too late now, he can't hold them culpable for killing him. They do look like death agents after all.
Though not an athlete Emmy award-winner Cicely Tyson also died from the jab. She was 96 years-old when dying suddenly after being injected.
African-Americans should stay away from the injection. Of all people they must know more than any other the dangers of trusting the system.